Rocky stock market could cause Fed to postpone interest rate hike
Read this story
City still slugging it out with 77 residences over Life Safety violations
Read this story
Are America's overexposed décor trends stereotyping our homes?
Read this story
Existing home sales nationwide rebound to highest level since 2007
Read this story
British sculptor completes 'infinite cube' vision of Marina City resident
Read this story
| | |
| --- | --- |
| | RT .will be offering delectable #bbq bites for the #RibsontheRiver event tmw night! [link] [2,455 followers] |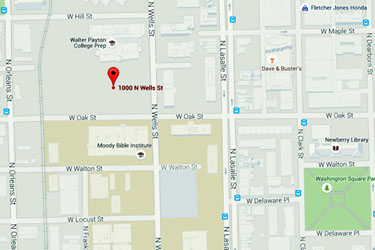 27-Aug-15 – Asking for directions escalated to armed robbery early Tuesday morning on North Wells Street near Walter Payton College Prep.
Just before 5 a.m., a man was robbed at gunpoint of his wallet and mobile phone by two men in a small, newer model hatchback car.
According to Chicago Police Department, the men pulled alongside the victim as he walked in the 1000 block of North Wells Street. They asked him for directions, then pointed a handgun at him and told him to drop his bag, jacket, wallet, and mobile phone on the ground and walk away.
The robbers are both described as black men, 20 to 30 years old, with dark complexions. One weighs about 160 pounds, the other 190 to 245 pounds. The car they were driving was dark blue or black.
The same men are suspected in a robbery that happened less than an hour later in the 600 block of South Wells Street. In that incident, the robbers, in a car, followed their victim down an alley, pulled up and robbed him at gunpoint.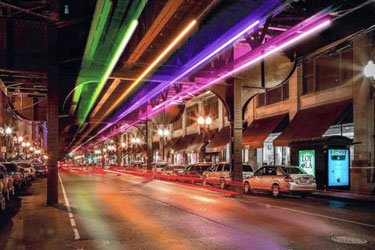 12-Aug-15 – Wabash Avenue in the Loop will start to get brighter and more colorful this fall, as a one-block stretch that passes Palmer House will be fitted with programmable LED tubes.
It will be a test of a public art project that hopes to someday have thousands of tubes installed along a two-block stretch of elevated L tracks. For now, a 48-foot-long prototype between Adams and Monroe Streets will help test the lights against vibration, traffic, and weather.
Jack Newell and Seth Unger announced on Tuesday they have raised $55,000 from 918 investors, using a 30-day Kickstarter campaign that ended on July 26.
Over the next six months, they will troubleshoot the design and develop an interactive website and mobile app to allow the lights to be programmed by the general public.
"The lighting sculpture will bring life and awareness to the largely neglected strip of Wabash Avenue," says Unger. "Creating this new destination in the heart of the Loop will increase annual visitors to Chicago, increase tourism, and encourage the growth of local business."
They have been working on their "Wabash Lights" proposal for four years.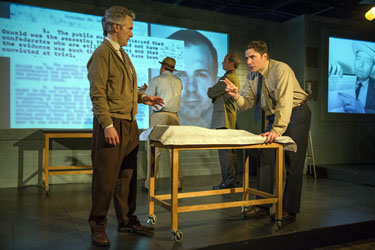 21-Aug-15 – (Above) Actors make the case that the Kennedy assassination was a Chicago mob hit in Assassination Theater, which opened Tuesday at River North's Museum of Broadcast Communications.
The play is a two-hour "theatrical investigation" written by Hillel Levin, an investigative reporter, former editor of Chicago magazine, and author who has written extensively about organized crime.
Based on interviews with retired FBI agents, mobsters, and other sources, Levin connects the dots to show how organized crime could have pulled off the "crime of the century."
According to Levin, the gunman who fired the fatal shot in Dallas on November 22, 1963, is alive today in an Illinois prison.
Through November 7, performances are every night, Wednesday through Sunday, with two performances on Saturday and Sunday. Chicago theater veteran Kevin Fox directs the production.
Left to right: Michael Joseph Mitchell, Ryan Kitley, Mark Ulrich, and Martin Yurek. Photo by Michael Brosilow.
What: Assassination Theater: Chicago's role in the Crime of the Century
When: Through November 7
Where: Museum of Broadcast Communications, 360 North State Street Map
Tickets: $49. Students/seniors $39.
Website: assassinationtheater.com
| | |
| --- | --- |
| | Visit Rebar after work for this festive guacamole. Its the perfect end of the week treat and our bar team is... [link] [25,952 followers] |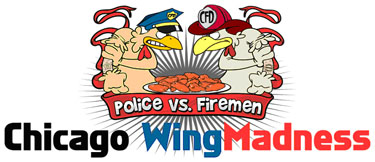 25-Aug-15 – 42nd Ward Alderman Brendan Reilly will finally get to add "wing eating contest judge" to his resume next month. He and Chicago City Clerk Susana Mendoza are among judges announced for "Chicago Wing Madness," now in its fifth year at Dick's Last Resort.
Benefiting charities and amusing hundreds of spectators, Chicago police officers and fire fighters compete to see who can eat the most chicken wings in two minutes – and who can eat the spiciest wings.
This year, money raised from tickets sold to the event will go to American Red Cross. In previous years, "Wing Madness" has drawn 300 people and raised as much as $25,000.
| | |
| --- | --- |
| | This will be Mendoza's (left) third year as a judge for the wing-eating contest. |
The other judges are retired Chicago Bulls center Dave Corzine, Art Norman, special contributor to NBC 5 News, and Bonnie Greene, news and traffic reporter for country music radio station US99.5.
Dr. Ian Smith, co-host of the daytime talk show The Doctors and author of diet and fitness books, will offer nutritional advice. WCIU television personality Aly Bockler will emcee.
The event will include a raffle. First prize is a dinner cruise for eight on a yacht on Lake Michigan.
What: Chicago Wing Madness
When: September 9 @ 5:30 p.m.
Where: Dick's Last Resort, 315 North Dearborn Street Map
Tickets: $25 in advance or $30 at the door
Website: Chicago Wing Madness
Previous story: Chicago fire fighters battle hot wings at Dick's
| | |
| --- | --- |
| | 23-Aug-15 – Each day, Eataly's expert artisans create fresh mozzarella, hand-tossed pizzas, and loaves of handmade bread. |
You can meet these artisans and taste their wares at a celebration on Friday afternoon with complimentary tasting, hands-on demonstrations, and special retail offers.
From noon to 3 p.m., Eataly artisans will host three complimentary hands-on demonstrations of "Made in Eataly" products at Eataly's cooking school, La Scuola, and Vino Libero, both located on the second floor...
Hands-On Bread Making – La Scuola
Experience the bread-making process with head baker Erin Flinn and taste Eataly's freshly made bruschetta.
Hands-On Forming Formaggio – La Scuola
An expert cheesemonger will demonstrate how to make creamy, chewy mozzarella from curds and boiling salted water.
The Art of the Bellini – Vino Libero
Watch Eataly staff demonstrate how to make the classic Bellini using Prosecco and fresh white peach puree.
From 3 to 6 p.m., Eataly will offer complimentary tasting of house-made products throughout the store.
At La Piazza, sample...
Almond Honey, Fig Mostarda, and Apricot Mostarda
Breakfast Sausage, Sweet Sausage, Hot Sausage, Lamb Sausage, and Chicken Sausage
Classic Rustic Bread
Salmon Burger
At Mozzarella Lab, house-made Mozzarella Grandissima and Seasonal Antipasti.
Pasta al Forno at the fresh pasta counter and Heirloom Tomatoes at the produce counter.
At La Birreria, house-made beer – and meet the brewer, Tyler Prokop.
From noon to 6 p.m. near the first floor entrance, try your hand at rolling out fresh pasta dough and forming your own shapes. Throughout the store, enjoy 28 percent off any Made in Eataly goods – including fresh mozzarella, handmade bread, assorted sausages, and seasonal antipasti.
What: Six hours of Italian food samples, demonstrations, and discounts
When: Friday, August 28, noon to 6 p.m.
Where: Eataly, 43 East Ohio Street Map
No financial arrangement exists between businesses featured and either Cavazos or Loop North News.
| | | | | | |
| --- | --- | --- | --- | --- | --- |
| LOOP/NORTH STOCKS | Symbol | Last | Change | Date | Time (CT) |
| AON PLC | AON | 93.54 | 0.85 | 8/28 | 3:03pm |
| CME GROUP | CME | 94.62 | 0.85 | 8/28 | 3:00pm |
| EXELON CORP | EXC | 31.40 | 0.32 | 8/28 | 3:00pm |
| GATX CORP | GMT | 49.34 | 0.46 | 8/28 | 3:02pm |
| GENERAL GROWTH PROPERTIES | GGP | 26.07 | 0.16 | 8/28 | 3:01pm |
| HYATT HOTELS CORP | H | 52.38 | 0.47 | 8/28 | 3:01pm |
| INTEGRYS ENERGY GROUP | TEG | 69.66 | | 6/29 | 3:01pm |
| JONES LANG LASALLE | JLL | 152.73 | 0.51 | 8/28 | 3:02pm |
| KEMPER CORP | KMPR | 35.80 | 0.23 | 8/28 | 3:05pm |
| MORNINGSTAR | MORN | 80.55 | 0.48 | 8/28 | 3:00pm |
| NORTHERN TRUST CORP | NTRS | 70.14 | 0.07 | 8/28 | 3:00pm |
| OLD REPUBLIC INTERNATIONAL | ORI | 15.72 | 0.01 | 8/28 | 3:04pm |
| PRIVATEBANCORP | PVTB | 37.19 | 0.05 | 8/28 | 3:00pm |
| RR DONNELLEY & SONS CO | RRD | 15.78 | 0.12 | 8/28 | 3:00pm |
| STRATEGIC HOTELS & RESORTS | BEE | 13.72 | 0.01 | 8/28 | 3:00pm |
| TELEPHONE & DATA SYSTEMS | TDS | 28.53 | 0.20 | 8/28 | 3:01pm |
| UNITED CONTINENTAL HOLDINGS | UAL | 57.12 | 3.76 | 8/28 | 3:00pm |
Average price $54.37
$0.25 from previous day
| | |
| --- | --- |
| 71 ° | |
Saturday
Scattered showers and thunderstorms. High 77F. Winds SSE at 5 to 10 mph. Chance of rain 60%.
Saturday Night
Mostly cloudy. A stray shower or thunderstorm is possible. Low 67F. Winds SE at 5 to 10 mph.
Sunday
Sunshine and clouds mixed. A stray shower or thunderstorm is possible. High 81F. Winds NNE at 5 to 10 mph.
Sunday Night
A few clouds overnight. A stray shower or thunderstorm is possible. Low 67F. Winds light and variable.
Chicago Weather from Weather Underground
August 29 – 90s alternative rock cover band Cannonball performs on the Chicago Riverwalk, 1-3 p.m. More info.
August 30 – Helicopter Lift at Merchandise Mart. A helicopter will be hoisting materials to the roof of Merchandise Mart. 25 lifts will occur between 9 a.m. and 11 a.m.
September 1 – Deadline for nominating a commercial or residential property owner or manager for the inaugural Green Streets Initiative Award presented by River North Residents Association. Help RNRA celebrate the people who create and enhance public spaces to make our neighborhood greener and more sustainable. Awards will be presented to the owners and managers of properties throughout River North for outstanding achievement in landscape beautification. More info.
September 2 – Cover band Maggie Speaks performs on the Chicago Riverwalk, 5:30-7:30 p.m. More info.
September 5 – Lynne Jordan & The Shivers perform R&B, jazz, blues, pop, cabaret, and funk on the Chicago Riverwalk, 1-3 p.m. More info.
Near North Homes
Average
List Price
Rent
Studio:
$180,578
$1,549
1-BR:
$290,984
$1,992
2-BR:
$514,937
$2,948
Most Expensive Listing
340 E RANDOLPH ST UNIT 62W
$5.7 million
Most Expensive Rental
130 N GARLAND CT UNIT PH5702
$17,500 per month
| | | |
| --- | --- | --- |
| | | Most Expensive Loop/Near North Building Permits |
$97.2 million
201 N GARLAND CT
• REVISION TO PERMIT 100568268 REMOVAL OF SETBACKS AT LEVEL 7 AND 8 REMOVAL OF PRIVATE TERRACES AT LEVEL 8 MODIFICATIONS TO THE GARAGE ENTRY RAMPS AND MICELLANEOUS DESIGN CHANGES PER PLANS. STRUCTURAL PEER REVIEW

$70.0 million
29 N WABASH AVE
• ERECT NEW CTA STATION AT 29 N WABASH AVENUE WITH STATIONHOUSE FACILITIES AT MEZZANINE LEVEL. INSTALLATION AND/OR MODIFY EXISTING STRUCTURES CARRYING RAIL FACILITIES. INCLUDES NEW PLATFORMS STAIRS FINISHES STATION SUPPORT ROOMS COMMUNICATION SPEAKER AND SE

$52.0 million
101 E ERIE ST
• CONVERT EXISTING OFFICE INTO HOTEL ON FLOORS 8 THROUGH 20 WITH ADDITIONAL WORK TO BASEMENT LEVELS 1 & 2 AND ROOF TOP AMENITIES

$26.481 million
220 E ILLINOIS ST
• SUPERSTRUCTURE ONLY FOR A PROPOSED 54 STORY 381 UNIT BUILDING - 220 EAST ILLINOIS

$20.0 million
750 N HUDSON AVE
• NEW CONSTRUCTION 25 STORY MIXED USE HIGH RISE CONSISTING OF RETAIL AT THE FIRST FLOOR PARKING AT BASEMENT THROUGH THE 3RD FLOOR AND DWELLING UNITS AT FLOORS 3 THROUGH 25 WITH AMENITY SPACES AT FLOORS 3 AND 4.750 NORTH HUDSON STREET- FOUNDATION ONLY

| | |
| --- | --- |
| | Recent Failed Health Inspections |