HOA trade group fights bill that would ease ham radio restriction
Read this story
Fire department disconnects announcement that evacuated condo
Read this story
Developer thinks small for re-use of downtown's 2.7 million square foot post office
Read this story
Outlook for home buying bright in 2016 despite rocky world economy
Read this story
Photos: Too cold to work outside? Tell it to the Riverwalk crew
Read this story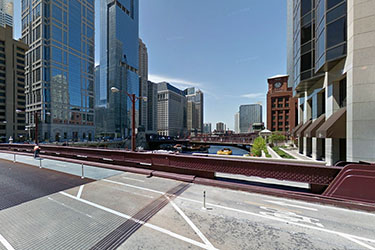 3-Feb-16 – A 22-year-old man says he was robbed mid-morning on a Wednesday on the Dearborn Street Bridge.
At 10:45 a.m. on January 6, the man, Asian but otherwise unidentified by Chicago police, was walking south on the west side of the bridge, near Westin Chicago River North, when a man with a handkerchief around his face and one hand in his pocket came up behind him. He put his left arm around the victim's neck and said, "Give me your wallet or I'll cut you."
The man gave the robber his wallet, with four credit/debit cards and a Georgia driver's license inside, all worth about $20. The robber then demanded the PINs for the credit cards – which the victim provided – before fleeing north on Dearborn.
The victim reported the theft to police and to his credit card issuers but not before the robber tried to use one the man's Chase cards.
A police camera on the bridge recorded the incident but, says CPD, not enough physical characteristics or detail of the suspect to continue their investigation. The robber is described as a black male, 25 to 28 years old, five-feet-eight-inches to five-feet-ten-inches tall. He was wearing a hooded sweatshirt and baggie pants.
| | |
| --- | --- |
| | 22-Jan-16 – A Chicago attorney says prosecutors in the Donnie Rudd case have recorded his telephone conversations with his client. |
Timothy Grace complained to Circuit Court Judge Bridget Hughes at a hearing Friday morning in Rolling Meadows that at least one of his calls to Dr. Rudd was recorded. He knows this because an assistant state's attorney told him. Recording his calls to Rudd, says Grace, "violates the sanctity of attorney-client privilege."
The assistant state's attorney says when he started to listen to the recording, he realized the call was from an attorney, stopped listening, requested the recording be deleted, and notified Grace.
"I commend them for doing that," said Grace after the hearing, "but still they should not be recording conversations between and attorney and client."
Rudd is charged with murder in the 1973 death of his wife, Noreen. The 73-year-old is in custody, unable to pay a $4 million bond. Grace says he will ask the judge to reconsider bond at Rudd's next hearing on February 11. He says "house arrest" is a better option.
| | |
| --- | --- |
| "The state doesn't have a case," says Grace (right). "It's all conjecture, insinuating, but there's no solid case here." | |
Rudd attended the hearing in a wheelchair, wearing brown prison clothes. Grace says Rudd is being treated for a skin infection at Cermak Health Services of Cook County, which provides health care to detainees at the Cook County Department of Corrections.
"The treatment he's getting is not like the treatment you and I would get at Northwestern [Memorial Hospital]. But at least he's being stabilized. He's getting a little better."
In 1983, with state representative Ellis Levin, Rudd co-wrote amendments to the Illinois Condominium Property Act. At one time, Rudd had a law firm in Schaumburg with, he has said, more than 2,000 clients, mostly homeowner associations, but in 1994 he voluntarily changed the status of his Illinois law license to "inactive" after four complaints were filed against him with the Attorney Registration and Disciplinary Commission.

Previous story: Former Chicago condo lawyer indicted in cold-case murder
| | |
| --- | --- |
| | (Left) A man in a striped shirt and dark pants is a suspect in a 2014 murder on River North's north side. (Click on images to view larger versions.) |
2-Feb-16 – Two photos released by Chicago police on Monday show the two black men who are suspects in a 2014 murder on the northern border of River North. In one photo, the suspects, say police, appear to be getting out of a maroon Dodge Intrepid.
On a Sunday morning, November 9, 2014, at about 2:24 a.m., police found 29-year-old Willis Jefferson unresponsive, lying on a sidewalk in the 800 block of North Orleans Street. He had been stabbed multiple times in the back. He was taken to Northwestern Memorial Hospital and pronounced dead about an hour later.
Jefferson lived in the 7200 block of South Vincennes Avenue, south of the Loop near Chicago's Englewood neighborhood. He was out on parole after serving about seven years for aggravated battery to a peace officer.
Anyone with information is asked to call Area Central detectives at 312-747-8380.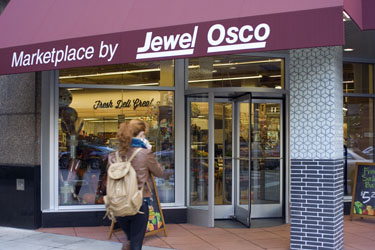 29-Jan-16 – A man from west of the Loop, who employees at the Jewel-Osco on State Street say is "a known thief," was arrested after a disturbance at the grocery store on January 9.
At about 8:20 p.m., store employees were keeping an eye on Marlon Brandon, age 34, who lives on South Kedzie Avenue. According to Chicago police, when Brandon tried to leave with a bottle of liquor, a 29-year-old employee confronted him. The man swore at her and swung the bottle at her but missed.
When police arrived, Brandon was in a security office – cursing, pacing, and surrounded by store employees. He was arrested for aggravated assault and taken to 18th district police headquarters for processing. Police say he was also in violation of a bail bond issued on December 15, 2015.
| | |
| --- | --- |
| | Cheers! Very excited and flattered to be included in U.S. News and World Reports Top 50 Hotels in the U.S. -... [link] [28,404 followers] |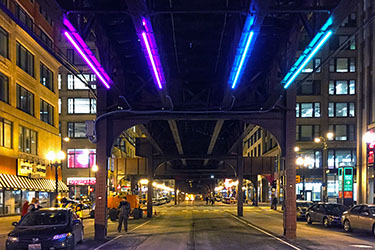 2-Feb-16 – It was not quite ready for testing in early January like they thought it would be, but the men behind The Wabash Lights project say Thursday is the day they will throw a switch and four 12-foot LED fixtures will light up the underside of the Wabash L tracks between Monroe and Adams Streets.
The lights will stay on for at least six months, according to Jack Newell and Seth Unger, during which time they will troubleshoot technical, design, and safety issues.
The fixtures were installed last Monday and Tuesday. A photo released by Newell and Unger show the lights being tested on January 26.
42nd Ward Alderman Brendan Reilly called the project, first imagined four years ago, "a collision of cutting-edge LED technology and public art."
"With all of the changes coming to the Loop elevated tracks in this area," said Reilly, "I believe Wabash Lights is a great opportunity for Chicago to further improve the Loop experience."
Newell and Unger say they have raised $59,480 from 918 investors but will need $5 million over the next five years. Eventually, they want the lights to span two city blocks and be programmable by visitors to a website and users of a mobile app.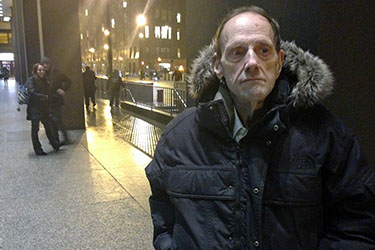 4-Feb-16 – A federal jury has awarded two panhandlers $1,500 each, saying Cook County Sheriff Tom Dart and his deputies violated their First Amendment rights when prohibiting them from soliciting donations from visitors to and those passing by Daley Center, the county's civil courthouse.
On January 28, the jury found in favor of plaintiffs Kim Pindak and Sam Philips, panhandlers who said courthouse security under the supervision of Dart's office moved to stop them from begging in the plaza at Daley Center.
Pindak and Philips alleged these actions by contracted private courthouse security and publicly employed sheriff's deputies cost them money and undermined their free speech rights, which, as panhandlers, included the opportunity to ask other people for money.
Judge rules for plaintiffs, lets jury decide remedy
In August, U.S. District Judge Rebecca Pallmeyer ruled in favor of the plaintiffs, saying their rights to panhandle under the First Amendment were "clearly established," and that the private security guards and the sheriff's deputies had improperly moved to "regulate speech activities on Daley Plaza, a public forum."
Attorneys for Pindak and Philips argued the violations of their rights occurred because the sheriff's office had not properly trained the security officers and deputies on how to interact with panhandlers, and had not educated them on the rights of panhandlers under the U.S. Constitution and Chicago's panhandling ordinance.
The judge agreed, finding the sheriff's office was not exempt from damages in the case. She left it to jurors to determine how much each panhandler plaintiff would receive from the county.
Adele Nicholas, a civil rights lawyer who represented the panhandlers, said she was "proud of our clients for having the courage to come forward and tell their stories in court, and grateful to the court and the jury for taking their rights seriously."
| | |
| --- | --- |
| | "It's a testament to the strength of our civil justice system that two panhandlers can come to federal court and hold accountable the top executive of one of the nation's largest sheriff's departments," said Nicholas (left). |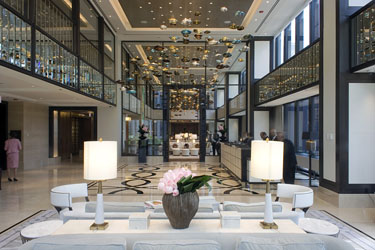 2-Feb-16 – Nine of the top ten best hotels in Chicago, according to U.S. News & World Report, are located in River North, Streeterville, Gold Coast, or in-between those north-of-the-Loop neighborhoods.
The 2016 list was published on Monday. The rankings, says U.S. News, are "based on an unbiased analysis of awards, expert recommendations, and user ratings."
The Langham, the 316-room hotel on floors 2-13 of the 52-story AMA Plaza, was ranked first, noted for its "attentive service, quiet location, and river views."
Said one reviewer, "If Downton Abbey was transported in time and place to Chicago, it would be The Langham."
Across Wabash Avenue, the 339-room Trump International Hotel & Tower, with its "minimalist-design rooms" and "picturesque view of the Wrigley Building," was ranked fifth.
"The towering, light blue concrete and glass structure, all 92 floors of it, sits on prime Chicago real estate, overlooking the river, lake, and downtown," said a reviewer.
Top ten hotels in Chicago, according to U.S. News & World Report...
The Langham, 330 North Wabash Avenue
Waldorf Astoria, 11 East Walton Street
Four Seasons, 120 East Delaware Place
The Peninsula, 108 East Superior Street
Trump International Hotel & Tower, 401 North Wabash Avenue
Park Hyatt, 800 North Michigan Avenue
The Ritz-Carlton, 160 East Pearson Street
Thompson, 21 East Bellevue Place
The Talbott, 20 East Delaware Place
Radisson Blu Aqua, 221 North Columbus Drive
Hotels ranked 11-20 include three in River North...
The James, 55 East Ontario Street
The Gwen, 521 North Rush Street
Hotel Palomar, 505 North State Street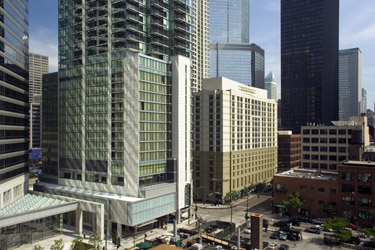 One hotel, Sofitel Chicago Water Tower at 20 East Chestnut Street, is north of River North but not quite in the Gold Coast neighborhood.
And three are in the Loop...
Renaissance Chicago Downtown Hotel, 1 West Wacker Drive
Hotel Monaco, 225 North Wabash Avenue
Hotel Burnham, 1 West Washington Street
The 553-room Renaissance on Wacker Drive is ranked fourth by U.S. News and World Report among all 166 Renaissance Hotels worldwide.

Website: U.S. News & World Report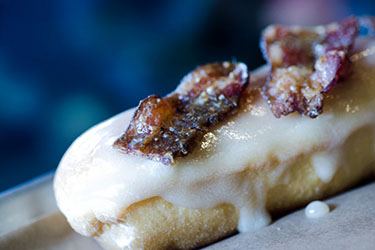 1-Feb-16 – Free doughnuts for a year will be a dream come true for three people, granted by the River North bakery with the 1968 made-in-Paris doughnut truck.
To celebrate its third anniversary, Firecakes Donuts on West Hubbard Street is giving a sealed envelope to anyone who buys at least six doughnuts between now and February 7. Three envelopes contain a special Golden Donut prize, entitling the winner to a free dozen doughnuts every month for one year. The rest contain a gift certificate for a free Old Fashioned Donut with the customer's next purchase.
"Our third anniversary is very special to us," says Firecakes co-owner Karen Fox. "We've just opened our third location...and our passion for making delicious doughnuts from the finest ingredients is as strong as ever."
The six doughnuts can be purchased at the River North location, the new bakery at 2453 North Clark Street, or from the doughnut truck.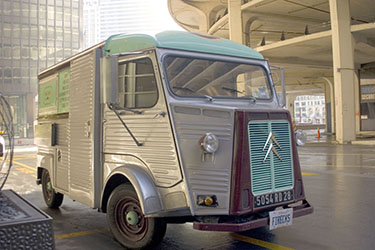 | | | | | | |
| --- | --- | --- | --- | --- | --- |
| LOOP/NORTH STOCKS | Symbol | Last | Change | Date | Time (CT) |
| AON PLC | AON | 92.87 | 3.92 | 2/5 | 3:02pm |
| CME GROUP | CME | 88.55 | 2.22 | 2/5 | 3:00pm |
| EXELON CORP | EXC | 32.90 | 0.65 | 2/5 | 3:01pm |
| GATX CORP | GMT | 43.94 | 0.30 | 2/5 | 3:01pm |
| GENERAL GROWTH PROPERTIES | GGP | 27.03 | 1.08 | 2/5 | 3:02pm |
| HYATT HOTELS CORP | H | 39.63 | 0.85 | 2/5 | 3:01pm |
| JONES LANG LASALLE | JLL | 111.28 | 6.48 | 2/5 | 3:02pm |
| KEMPER CORP | KMPR | 26.12 | 6.21 | 2/5 | 3:02pm |
| MORNINGSTAR | MORN | 75.79 | 2.21 | 2/5 | 3:00pm |
| NORTHERN TRUST CORP | NTRS | 60.02 | 0.32 | 2/5 | 3:00pm |
| OLD REPUBLIC INTERNATIONAL | ORI | 17.60 | 0.21 | 2/5 | 3:01pm |
| PRIVATEBANCORP | PVTB | 33.14 | 1.94 | 2/5 | 3:00pm |
| RR DONNELLEY & SONS CO | RRD | 13.50 | 0.08 | 2/5 | 2:59pm |
| TELEPHONE & DATA SYSTEMS | TDS | 23.98 | 0.59 | 2/5 | 3:01pm |
| UNITED CONTINENTAL HOLDINGS | UAL | 46.86 | 1.55 | 2/5 | 3:03pm |
Average price $45.83
$0.91 from previous day