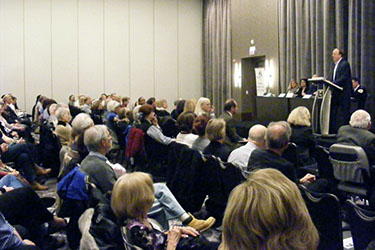 11-May-16 – His hands are full, managing the Central Business District, and 42nd Ward Alderman Brendan Reilly says he's not planning on running for mayor. At least not now.
"I've heard that rumor, too," he said at a meeting last week of Streeterville Organization of Active Residents. "It's not something I'm pushing around. I love my job, representing downtown Chicago. I could consider running for higher office down the road but right now I'm content where I'm at."
Reilly fielded a variety of questions at the May 4 meeting.
Asked about a growing number of homeless that live on the lower levels of Michigan Avenue, Illinois Street, and Grand Avenue, Reilly noted many of them suffer from mental illness, substance abuse, or both. There are housing programs that can help, and Reilly says Chicago police officers offer them, but "if you're addicted, you can't get in the front door."
| | |
| --- | --- |
| | "We've had a broken policy for a long time and these folks have suffered for it," says Reilly (left). |
Reilly reminded residents that while homelessness is not a crime, aggressive panhandling is. "If you see aggressive panhandling, don't email me. Call 911. I promise you you're not pulling an officer away from a bank robbery."
Put citizens in charge of police review, build hotel on Navy Pier
In tight economic times, Reilly says he wrestles with making sure Chicago Police Department spends its money wisely.
"I think it's wrong to be spending $120 million a year on police overtime instead of hiring additional officers and training them," he said. "We need to keep breathing new life into large organizations like the police department."
Reilly says it's time to replace the Independent Police Review Authority, which investigates allegations of police misconduct, with a new citizen review committee. People on the committee would have backgrounds in law and community organizations.
The alderman says he supports plans to build a seven-story hotel on Navy Pier. The hotel, he says, is "within the skin of the existing structure." The hotel will not obstruct any views and, with only 200 rooms, is "not a mega hotel."
Patrick Butler assisted with this story.

Related story: Hotel planned for Navy Pier