Romance on the Riverwalk as new spaces host marriage proposals
Read this story
| | |
| --- | --- |
| | Looks like fun! #girlfriends [link] [2,484 followers] |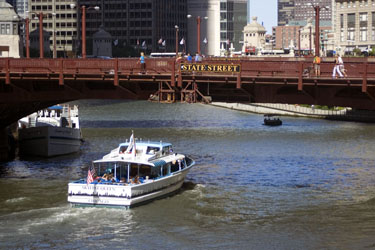 28-Sep-15 – A man rescued last Thursday after he fell from the State Street Bridge had suffered a sudden onset of anxiety while leaning over the railing, according to Chicago Police Department.
The unidentified young man was leaning over the guard rail at about 2:23 p.m. when police say he had a panic attack, lost his balance, and fell into the Chicago River.
As the man struggled to stay afloat, personnel on board a nearby tour boat called police on ship-to-shore radio.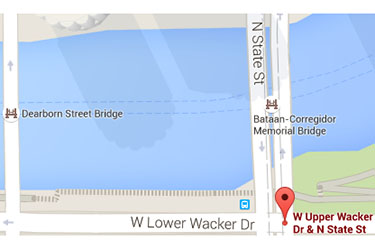 Multiple emergency vehicles responded, including a Scuba dive team and two rescue helicopters. By 2:27 p.m., Marine Unit 7 had the man pulled from the river and on Wacker Drive west of the bridge. Police say he "suffered a bit of shock and hypothermia" and was treated at a nearby hospital.
A 19-year-old man was not so lucky on Saturday after falling into the Chicago River near North Orleans Street at 4 a.m. Ali Ahsan, who lived north of the Loop on North Kedzie Avenue, was unresponsive when taken to Northwestern Memorial Hospital and was pronounced dead at 5:17 a.m., according to the Cook County Medical Examiner's office.
| | |
| --- | --- |
| | (Left) Rendering of the Loop's existing three-story Block 37 retail center with a new 34-story apartment tower on top of it. (Click on images to view larger versions.) |
30-Sep-15 – The apartment tower rising from Block 37 has topped out, with the last steel beam put into place last Wednesday on the 37th floor.
CIM Group, a real estate and infrastructure investment firm with headquarters in Los Angeles, is building 690 apartments on 34 floors above the retail center that it purchased in 2012 for $84 million. Open since 2008, Block 37, a project mired at times in controversy and financial problems, takes up the entire block bordered by State, Washington, Dearborn, and Randolph Streets.
The apartment tower, rising from the north end of the complex, was announced in September 2014. It will be completed in mid-2016.
| | |
| --- | --- |
| (Right) Construction progress on September 30, as seen from the southeast. Photo by Bob Johnson. | |
"The tower will be a great addition to the Chicago skyline and will contribute to the growing residential base in Chicago's Loop," says 42nd Ward Alderman Brendan Reilly.
The 275,000 square foot retail center is getting improvements, too, including an eleven-screen AMC movie theater on the fourth floor, a dining area on the third floor that will offer various Latin cuisine options, and a bar called The Dearborn, being built on the ground floor at the corner of Dearborn and Randolph Streets.
| | |
| --- | --- |
| | Did you know that Sixteen serves a beautiful Sunday brunch? Complete with a carving station, seafood tower,... [link] [26,337 followers] |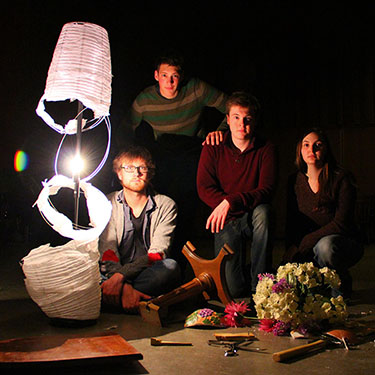 1-Oct-15 – Music inspired by the Chicago River will be performed throughout the McCormick Bridgehouse in mid-October.
Friends of the Chicago River commissioned The Suburban Piano Quartet to compose original music to commemorate the 100th anniversary of the Eastland disaster.
When Requiem in Water debuts on October 19, the quartet and a 16-member choir will be scattered throughout the five-story bridgehouse. Audience members will be encouraged to explore the Chicago River Museum located in the bridgehouse during the performance and, says the museum, "reflect on the music and history at their own pace."
"The piece uses the classical form of the Requiem Mass as a point of departure to explore loss and redemption on the Chicago River and Lake Michigan in recognition of the tragic loss of the 844 people who were aboard the Eastland when it capsized," explains Joanne So Young Dill, director of the Bridgehouse Museum.
| | |
| --- | --- |
| | According to the museum, its acoustics are "incredible" and placing performers on each floor will create a "soundscape that promises to be both unique and moving." |
The Suburban Piano Quartet is comprised of Nadine Dyskant-Miller, Clay Gonzalez, Perry Maddox, and Corey Smith. They founded the quartet in 2013 while attending University of Michigan School of Music, Theatre and Dance. The group also includes musicians from Canada.
Performance video uploaded to YouTube shows the quartet playing a variety of instruments, not just piano, and vocal technique that includes both singing and speaking.
The group is using a crowdfunding website to raise money for the performance. Expenses include transportation from Ann Arbor and Montreal, food and lodging, and purchasing large metal pipes to use in the performance.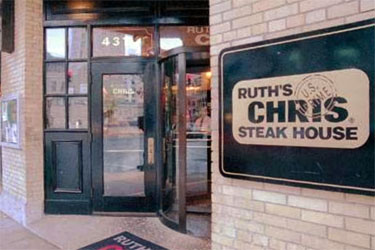 1-Oct-15 – Sea scallops are no longer part of the deal and the dessert has changed but Ruth's Chris Steak House in River North has extended its four-course meal offer that includes a starter, entrée, personal side dish, and dessert from $43.95 to $55.95.
Choose one of the following starters: Butter Lettuce BLT Salad, Chicken Tortellini Soup, Caesar Salad, or Steak House Salad.
Choose one of the following entrées for $43.95...
6-ounce Filet and Shrimp
Stuffed Chicken Breast
Chef's Fresh Fish Selection Center Cut Swordfish Steak
Or choose one of these, priced from $49.95 to $55.95...
Almond Crusted Chilean Sea Bass
6-ounce Filet & Cold Water Lobster Tail
12-ounce Ribeye Filet (or 16-ounce for $4 extra)
Select one of the following personal sides...
Fire Roasted Corn
Mashed Potatoes
Sautéed Mushrooms
Green Beans with Roasted Garlic
Creamed Spinach
For dessert: Strawberry Shortcake with Chocolate-Pecan Truffles.
Ruth's Chris Steak House
431 North Dearborn Street Map
312-321-2725
No financial arrangement exists between businesses featured and either Cavazos or Loop North News.
| | | | | | |
| --- | --- | --- | --- | --- | --- |
| LOOP/NORTH STOCKS | Symbol | Last | Change | Date | Time (CT) |
| AON PLC | AON | 89.78 | 1.22 | 10/2 | 3:04pm |
| CME GROUP | CME | 90.57 | 3.21 | 10/2 | 3:00pm |
| EXELON CORP | EXC | 29.82 | 0.62 | 10/2 | 3:01pm |
| GATX CORP | GMT | 44.24 | 0.81 | 10/2 | 3:01pm |
| GENERAL GROWTH PROPERTIES | GGP | 26.46 | 0.03 | 10/2 | 3:02pm |
| HYATT HOTELS CORP | H | 48.72 | 1.23 | 10/2 | 3:00pm |
| INTEGRYS ENERGY GROUP | TEG | 69.66 | | 6/29 | 3:01pm |
| JONES LANG LASALLE | JLL | 144.79 | 1.16 | 10/2 | 3:02pm |
| KEMPER CORP | KMPR | 35.00 | 0.13 | 10/2 | 3:05pm |
| MORNINGSTAR | MORN | 80.81 | 0.78 | 10/2 | 3:00pm |
| NORTHERN TRUST CORP | NTRS | 67.39 | 0.82 | 10/2 | 2:59pm |
| OLD REPUBLIC INTERNATIONAL | ORI | 15.64 | 0.14 | 10/2 | 3:04pm |
| PRIVATEBANCORP | PVTB | 37.11 | 1.11 | 10/2 | 3:00pm |
| RR DONNELLEY & SONS CO | RRD | 14.65 | 0.11 | 10/2 | 2:59pm |
| STRATEGIC HOTELS & RESORTS | BEE | 13.97 | 0.09 | 10/2 | 3:02pm |
| TELEPHONE & DATA SYSTEMS | TDS | 25.39 | 0.31 | 10/2 | 3:02pm |
| UNITED CONTINENTAL HOLDINGS | UAL | 51.76 | 1.24 | 10/2 | 3:01pm |
Average price $52.10
$0.00 from previous day
| | |
| --- | --- |
| 57 ° | |
Monday
Cloudy. Slight chance of a rain shower. High 64F. Winds NE at 5 to 10 mph.
Monday Night
Partly cloudy this evening, then becoming cloudy after midnight. Low 58F. Winds N at 5 to 10 mph.
Tuesday
Cloudy skies early, then partly cloudy in the afternoon. High 68F. Winds NNE at 5 to 10 mph.
Tuesday Night
Generally fair. Low 59F. Winds light and variable.
Chicago Weather from Weather Underground
October 5 – Curse the curse at Renaissance Chicago Downtown Hotel's Staytion Bar with the Billy Goat Curse Party. Enjoy bites from the famous Billy Goat Tavern. 6-10 p.m., Renaissance Chicago Downtown Hotel, 1 West Wacker Drive. Entry is complimentary, with food and beverage available for purchase.
October 6 – Eat. Drink. Stroll. Repeat. OctoberFeast is a tasting tour of River North showcasing River North Business Association restaurant members. Participating venues provide their specialty food items, along with a specialty drink, in tasting portions, for event participants to enjoy. The event continues to grow each year and is becoming the RNBA's signature event with over 300 participants expected this year. New this year – Pick your route when you register. There are a limited number of spots on each route. 5-10 p.m. More info.
October 6 – Ron Klemencic, former Chairman of the Council on Tall Buildings and Urban Habitat, discusses 150 North Riverside at the October dinner meeting of Structural Engineers Association of Illinois. This eye-catching building is currently under construction at west end of main branch of Chicago River. Upon completion, the structural system will be covered by architectural cladding with onlookers wondering what could be holding up the building. Open to all members of the construction industry. Cash bar opens at 5:15 p.m., dinner served at 6:00 p.m., and program starts at 6:15 p.m. Cliff Dwellers Club, 200 South Michigan Avenue, 22nd floor. Cost: $65. Advanced reservations required. More info.
October 6 – 18th District CAPS office will hold an orientation and training session that qualifies residents to participate in the Chicago Alternative Policing Strateg program. 6-7 p.m., 1160 North Larrabee Street. RSVP to this event by emailing CAPS018district@chicagopolice.org on or before October 1.
Through October 7 – Chicago's top museums join to celebrate Museum Week. Take advantage of discounted admissions, special exhibits, giveaways, and more at Adler Planetarium, The Art Institute of Chicago, Chicago History Museum, DuSable Museum of African American History, The Field Museum, Lincoln Park Zoo, Museum of Contemporary Art, Museum of Science and Industry, National Museum of Mexican Art, National Museum of Puerto Rican Arts & Culture, The Peggy Notebaert Nature Museum, and John G. Shedd Aquarium. More info.
| | | |
| --- | --- | --- |
| | | Most Expensive Loop/Near North Building Permits |
$26.481 million
220 E ILLINOIS ST
• SUPERSTRUCTURE ONLY FOR A PROPOSED 54 STORY 381 UNIT BUILDING - 220 EAST ILLINOIS

$25.83 million
228 E ONTARIO ST
• FOUNDATION ONLY FOR A TWENTY-ONE 195 ROOM HOTEL WITH BASEMENT AND ASSOCIATED SITE WROK AS PER PLANS

$20.0 million
750 N HUDSON AVE
• NEW CONSTRUCTION 25 STORY MIXED USE HIGH RISE CONSISTING OF RETAIL AT THE FIRST FLOOR PARKING AT BASEMENT THROUGH THE 3RD FLOOR AND DWELLING UNITS AT FLOORS 3 THROUGH 25 WITH AMENITY SPACES AT FLOORS 3 AND 4.750 NORTH HUDSON STREET- FOUNDATION ONLY

$17.5 million
545 N MCCLURG CT
• REVISION TO PERMIT 100581066 FOR ADDITION AN ADJACENT OF SEVEN - 7 STORY RESIDENTIAL BUILDING 50 DWELLING UNITS; TO INCLUDE MODIFICATIONS TO EXISTING RESIDENTIAL BUILDING AS WELL AS MODIFICATIONS OF THE FOUNDATION SYSTEM AS PER PLANS.

$15.0 million
600 E GRAND AVE
• EXISTING OPEN AIR ASSEMBLY: REPLACEMENT OF EXISTING FERRIS WHEEL INSTALLATION OF NEW STRUCTURAL SUPPORT SYSTEM FOR FERRIS WHEEL INSTALLATION OF NEW USER LOADING DECK INSTALLATION OF NEW CANOPY AND INSTALLATION OF ASSOCIATED LANDSCAPING AT PIER PARK. **CER

| | |
| --- | --- |
| | Recent Failed Health Inspections |