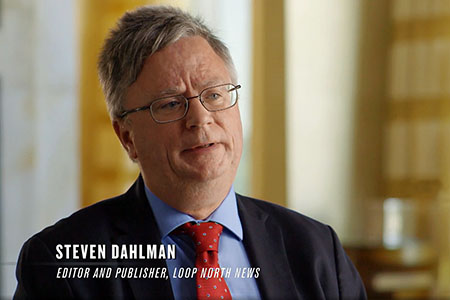 Steven Dahlman is editor and publisher of Loop North News. He has 40 years of experience as a professional journalist – writing for websites, newspapers, magazines, radio, and television – and has been a professional photographer for the past 18 years.

Steven was a radio news director, reporter, and anchor for more than a dozen stations and networks. From 1984 to 1990, he was a regular contributor to ABC Radio Networks. He is a frequent contributor to Chicago's Skyline newspaper, published by Inside Publications, and was recently a part-time news writer/anchor for Rivet News Radio, an Internet radio news service located in the West Loop.

He has appeared in documentaries, including one broadcast nationally on the Independent Discovery television network, and on the nationally-syndicated show American Greed.

He is co-creator with Dr. Neal Samors of two books about Chicago, Chicago's River: At Work And At Play (Chicago's Book Press, 2014) and Changing Chicago: A Portrait in Postcards and Photos (Chicago's Book Press, 2017).

Websites...

Member of Society of Professional Journalists and Chicago Harbor Safety Committee.